February 14th is Valentine's Day. It is a day to celebrate the people we choose to share our life. In other words, it is a day to celebrate our family, friends and lifelong lovers. In my relationship with my boyfriend I focus on good communication skills between us. I think that verbalising our love everyday is a good practise, but special days like Valentines, it's also good to show your love with a memorable gift. I strongly believe that an easy and effective way to show your loved ones your sentiments is to bake them something delicious.
These Valentines red velvet mini cakes are perfect for such an occasion. If, you have a busy lifestyle, like me, this recipe takes only about 50 minutes to prepare and bake so time-wise it suits us as well.
Ingredients
Red velvet min cakes
2 tablespoons unsweetened cocoa powder
30g red food colouring
2 tablespoons water
300g white sugar
100g vegetable oil
2 eggs
200g buttermilk
1 teaspoon vanilla extract
700g flour
1 tablespoon white vinegar
1½ teaspoon baking soda
Filling
180g cream cheese
100g salted butter
1 teaspoon vanilla extract
480g powdered sugar
Method
Red velvet mini cakes
Heat the oven at 175 degrees.
Mix the cocoa powder, food coloring and water. Put aside.
Mix together the sugar, oil and eggs. Add the buttermilk, vanilla extract and the food colour mixture, which was put aside.
Stir in the flour, vinegar and baking soda until the whole mixture is combined.
Pour the mixture using a round spoon onto a baking sheet.
Bake for around 7 minutes.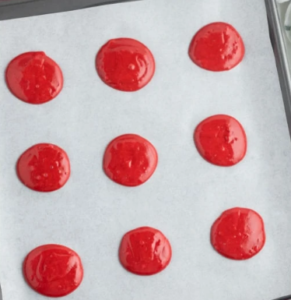 Filling
Mix the cream cheese, butter, powdered sugar and vanilla extract.
Red velvet mini cake with filling
Spread a tablespoon onto the bottom side of the mini cake. Then, top with the bottom side of another mini cake.
Put in the refrigerator. Serve.
I hope you enjoy these valentines red velvet mini cakes and share it with your loved ones on this special day. If, you would like to have more delicious recipes with all the nutritional information order our recipe book.
Happy Valentines Day!!